"Mundialización y pobreza: una reflexión sobre el lucro"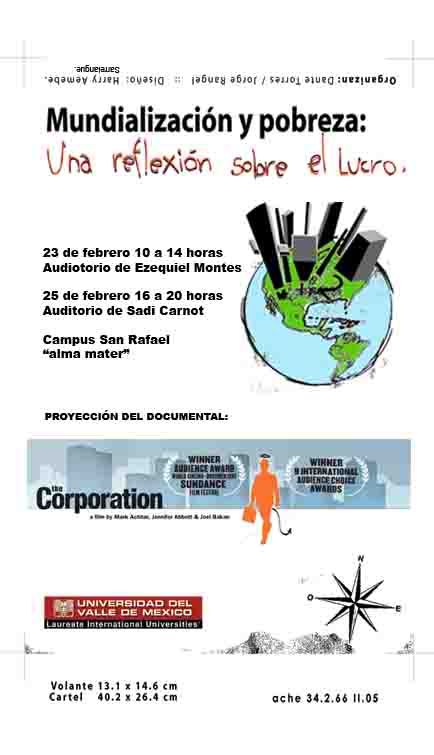 Los invito a la proyección de este documental, luego de la cual participaré como comentarista y entablaremos un diálogo con el público asistente.
Pueden visitar el sitio oficial de la película.

Dante Torres Rios wrote:
Asunto: Documental
Fecha: Fri, 18 Feb 2005 10:56:23 -0600

UNIVERSIDAD DEL VALLE DE MEXICO
CAMPUS SAN RAFAEL"Alma mater"
México, D. F. 18 de Febrero de 2005

Por este medio hago llegar a usted una atenta invitación al evento titlado "Mundialización y pobreza: una reflexión sobre el lucro" , que incluirá la presentación del documental "The Corporation", que tendrá lugar el próximo viernes 25 de febrero del año en curso, de 15 a 19 horas, en el auditorio del Campus San Rafael de la Universidad del Valle de México (Sadi Carnot Sadi Carnot No. 57 Col. San Rafael, C.P. 06470 Del. Cuauhtémoc, México, D.F., con la participación de tres profesores del campus como comentaristas y la asistencia de los miembros de la comunidad de la Región Centro.

AGENDA
1. Nombre del evento: "Mundialización y pobreza: una reflexión sobre el lucro"
2. Se proyectará el documental "The Corporation".
3. Fecha: Viernes 25 de Febrero del 2005.
4. Lugar: Auditorio del Campus San Rafael.
5. Horario: Vespertino 15 a 19 horas.
6. La duración del documental es de tres y media horas.
7. Antes de la proyección, brevemente se dará la bienvenida y se presentará el programa.
8. Al terminar la proyección se llevara a cabo una ronda de diálogo entre tres profesores.
9. Enseguida se abrirá una sesión de comentarios del público asistente.
10. Finalmente se agradecerá la presencia de los asistentes y se cerrará el evento.

Sinopsis del documental:

One hundred and fifty years ago, the corporation was a relatively insignificant entity. Today, it is a vivid, dramatic and pervasive presence in all our lives. Like the Church, the Monarchy and the Communist Party in other times and places, the corporation is today's dominant institution. But history humbles dominant institutions. All have been crushed, belittled or absorbed into some new order. The corporation is unlikely to be the first to defy history.
In this complex and highly entertaining documentary, Mark Achbar, co-director of the influential and inventive MANUFACTURING CONSENT: NOAM CHOMSKY AND THE MEDIA, teams up with co-director Jennifer Abbott and writer Joel Bakan to examine the far-reaching repercussions of the corporation's increasing preeminence. Based on Bakan's book The Corporation: The Pathological Pursuit of Profit and Power, the film is a timely, critical inquiry that invites CEOs, whistle-blowers, brokers, gurus, spies, players, pawns and pundits on a graphic and engaging quest to reveal the corporation's inner workings, curious history, controversial impacts and possible futures. Featuring illuminating interviews with Noam Chomsky, Michael Moore, Howard Zinn and many others, THE CORPORATION charts the spectacular rise of an institution aimed at achieving specific economic goals as it also recounts victories against this apparently invincible force.

Coordina: Dante Torres
Apoyo: Jorge Rangel y Joel Enríquez
Diseño: Harry Aemebe y Sergio Pérez Sarrelange
ATENTAMENTE
DANTE TORRES RIOS
(51410440 Ext. 52464)
(e-mail: dtorres@uvmnet.edu )
(Web: http://mx.geocities.com/transformacion_de_la_educacion/ )